Welcome to Chiponline.com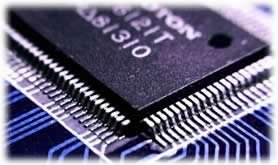 At CHIPONLINE.com we provide only the Highest Quality Components to meet your Requirements.
With 20 Years of Experience and Contacts around the World count on us to meet your difficult component requirements with Top Quality Parts. Ownership has been in the Industry Since 1984.
Contact us today !
Obsolete Integrated Circuits
Allocated Integrated Circuits
Japanese MPU/CPU/LCD DRIVERS
Japanese SRAM
FUJITSU MICROELECTRONICS
HITACHI-RENESAS
MITSUBISHI
NEC
OKI SEMICONDUCTOR
SANYO
SEIKO-SMOS
SONY SEMICONDUCTOR
TOSHIBA SEMICONDUCTOR
YAMAHA
CPU
MPU
LCD DRIVERS
DRAM
SRAM
EPROM
FLASH EPROM
Above is a partial listing of our line card and the Manufacturers whose products we can supply. Please inquire about any kind of Japanese devices as we travel there frequently and have many contacts.
BROWSE OUR STOCK LIST                           BROWSE OUR AVAILABILITIES
Please contact us today. You may also fax or email in a Request for Quote.


For orders below $1000 we now accept VISA, MASTER CARD, AMERICAN EXPRESS or DISCOVER CARD payments.

CHIPONLINE.com
4425C TREAT BLVD. #125
CONCORD CA 94521